Penn State Football
Loading Tweets...

1 second ago
| Name | Pos | Ht | Wt | Hometown | Rivals | ESPN | 247 | Scout |
| --- | --- | --- | --- | --- | --- | --- | --- | --- |
| Sterling Jenkins | OT | 6-8 | 294 | Pittsburgh, Pa. | ★★★★ | ★★★★ | ★★★★ | ★★★★ |
| Paris Palmer | OT | 6-7 | 290 | Plymouth, N.C. | ★★★★ | ★★★★ | ★★★★ | ★★★★ |
| Tommy Stevens | QB | 6-4 | 186 | Indianapolis, Ind | ★★★ | ★★★ | ★★★ | ★★★ |
| Saquon Barkley | RB | 5-11 | 210 | Coplay, Pa. | ★★★★ | ★★★★ | ★★★★ | ★★★★ |
| Ryan Bates | OL | 6-5 | 275 | Warrington, Pa. | ★★★★ | ★★★★ | ★★★★ | ★★★★ |
| Manny Bowen | LB | 6-2 | 206 | Barnegat, N.J. | ★★★★ | ★★★★ | ★★★★ | ★★★★ |
| Nick Bowers | TE | 6-4 | 245 | Kittanning, Pa. | ★★★ | ★★★ | ★★★ | ★★★ |
| Ryan Buchholz | DL | 6-6 | 241 | Malvern, Pa. | ★★★★ | ★★★ | ★★★★ | ★★★★ |
| Kamonte Carter | DE | 6-4 | 257 | Silver Spring, Md. | ★★★★ | ★★★ | ★★★★ | ★★★★ |
| Irvin Charles | WR | 6-4 | 215 | Sicklerville, N.J. | ★★★★ | ★★★ | ★★★★ | ★★★★ |
| Jake Cooper | LB | 6-2 | 226 | Doylestown, Pa. | ★★★ | ★★★ | ★★★ | ★★★ |
| Kevin Givens | DL | 6-1 | 245 | Altoona, Pa. | ★★★ | ★★★ | ★★★ | ★★★ |
| Steven Gonzalez | OL | 6-4 | 328 | Union City, N.J. | ★★★ | ★★★★ | ★★★★ | ★★★ |
| Jonathan Holland | TE | 6-4 | 235 | Brandywine, Md. | ★★★ | ★★★★ | ★★★ | ★★★ |
| Juwan Johnson | WR | 6-4 | 212 | Glassboro, N.J. | ★★★★ | ★★★★ | ★★★★ | ★★★★ |
| Daiquan Kelly | LB | 6-2 | 205 | Newark, N.J. | ★★★★ | ★★★ | ★★★★ | ★★★ |
| Jarvis Miller | DB | 6-2 | 197 | Suffield, Conn. | ★★★ | ★★★ | ★★★ | ★★★ |
| Shareef Miller | DE | 6-5 | 230 | Philadelphia, Pa. | ★★★ | ★★★ | ★★★ | ★★★ |
| Ayron Monroe | DB | 6-0 | 197 | Largo, Md. | ★★★ | ★★★ | ★★★ | ★★★ |
| Johnny Petrishen | DB | 6-1 | 189 | Lower Burrell, Pa. | ★★★ | ★★★ | ★★★ | ★★★ |
| Brandon Polk | WR | 5-9 | 163 | Ashburn, Va. | ★★★ | ★★★ | ★★★★ | ★★★★ |
| John Reid | DB | 5-10 | 181 | Mount Laurel, N.J. | ★★★★ | ★★★★ | ★★★★ | ★★★★ |
| Andre Robinson | RB | 5-9 | 215 | Mechanicsburg, Pa. | ★★★ | ★★★★ | ★★★★ | ★★★★ |
| Garrett Taylor | DB | 6-0 | 196 | Richmond, Va. | ★★★★ | ★★★★ | ★★★★ | ★★★★ |
| Robert Windsor | DL | 6-4 | 278 | Fond du Lac, Wis. | ★★★ | ★★★ | ★★★ | ★★★ |
Signing Day Show Archive

Official Signing Day Board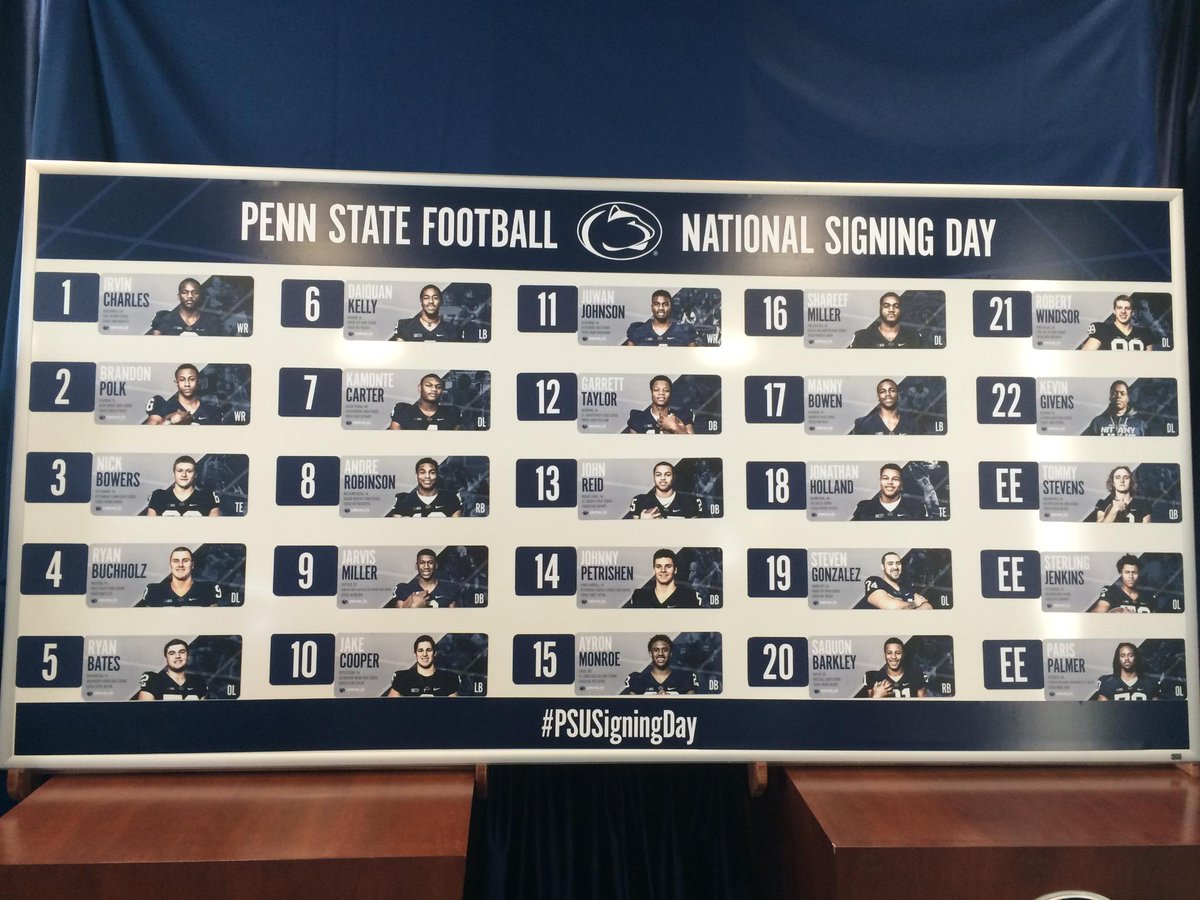 Franklin Announces Penn State Football's Highly Touted Class of 2015




2015 Signees
| VIDEO & Feature: Franklin, Nittany Lions Celebrate Class

J. Franklin Transcript | J. Gattis Transcript | T. Smith Transcript | A. Frank Transcript

Feb. 4, 2015

UNIVERSITY PARK, Pa. - Head coach James Franklin announced The Pennsylvania State University's Top 15 recruiting class today during a Signing Day celebration in the Lasch Football Building.

The Nittany Lions' Class of 2015 is ranked No. 2 in the Big Ten Conference by the primary scouting services, and from No. 11 to 14 nationally, depending on the scouting service, as of mid-day Wednesday.

Penn State welcomed 22 student-athletes who signed National Letters of Intent to join the football program. They joined three Nittany Lions who enrolled in classes in January for a total class of 25 signees for the 2015 season.

Having passionately vowed to "Dominate The State" during his inaugural season in 2014, Franklin and his staff emphatically did just that, signing seven of the top 10 players in Pennsylvania and 10 of the top 15. The Nittany Lions signed a total of 11 Keystone State prep standouts. All three Pennsylvania totals are the highest for Penn State in more than a decade.

The Nittany Lions were highly productive in signing prep standouts from throughout the Mid-Atlantic and Northeast, with 22 of the 25 players hailing from within a 350-mile radius of State College. One of the three signees from outside the region, offensive tackle Paris Palmer, played the past two seasons at Lackawanna (Pa.) College and enrolled in January.

Penn State's Class of 2015 hails from nine different states and metropolitan Washington, D.C., spanning from Connecticut to North Carolina to Indiana and Wisconsin. The Nittany Lions had 11 signees from Pennsylvania high schools, five from New Jersey, three from Maryland, two from Virginia and one each from Connecticut, Indiana, North Carolina and Wisconsin.

Thirteen defensive and 12 offensive players signed with the Nittany Lions.